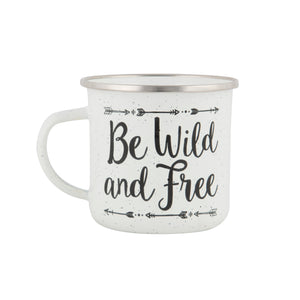 Sass & Belle 'Be Wild and Free' Enamel Mug. 
Ideal for those who like travel, camping and the great outdoors! 
The text and arrow design is printed on both sides. 
Also has attractive speckled paint effect and metallic rim.  
Made from hard wearing metal & enamel and ideal for glamping, picnics or hiking. 
Capacity is 190ml. Measures 8cm in height, rim diameter is 9cm. 
Nice treat for yourself and good addition to your outdoor kit! 
Also lovely gift for an adventurer. 

Colour repre­sen­ta­tion is only as accurate as the web design process allows. 
*Please note this product is currently available for UK delivery 
If you would like shipping to another International location please message me via the contact form. I will advise if I can send to that country and if so give you a quote for the shipping cost.